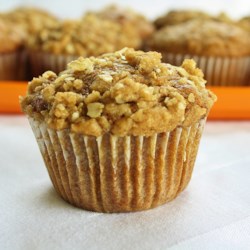 Pumpkin Muffins with Streusel Topping
"This is a moist and hearty breakfast muffin made with fresh pumpkin, oatmeal, and brown sugar."
Ingredients
310 g all-purpose flour
40 g rolled oats
7 g pumpkin pie spice
9 g baking soda
5 g baking powder
6 g salt
370 g pumpkin puree
220 g brown sugar
200 g white sugar
160 ml vegetable oil
120 ml applesauce
3 eggs
5 ml vanilla extract
40 g raisins (optional)
55 g packed brown sugar
30 g butter, softened
10 g rolled oats
15 g all-purpose flour
Directions
Preheat oven to 350 degrees F (175 degrees C). Grease or line 18 muffin cups with paper liners.
Combine 2 1/2 cups flour, 1/2 cup oats, pumpkin pie spice, baking soda, baking powder, and salt together in a bowl. Whisk pumpkin puree, 1 cup brown sugar, white sugar, vegetable oil, applesauce, eggs, and vanilla extract together in a separate large bowl. Stir flour mixture into pumpkin mixture; mix well. Fold in raisins.
Beat 1/4 cup brown sugar with butter in a bowl until creamy and smooth. Whisk 2 tablespoons oats and 2 tablespoons flour, using a fork, into sugar-butter mixture until streusel topping is crumbly.
Pour the batter into the prepared muffin tin. Sprinkle each muffin with streusel topping.
Bake in the preheated oven until a toothpick inserted in the center of a muffin comes out clean, 25 to 35 minutes.
ALL RIGHTS RESERVED © 2018 Allrecipes.com
Printed From Allrecipes.com 6/19/2018