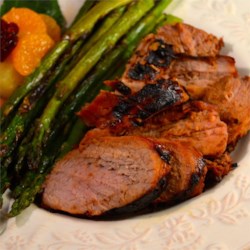 Marinated Grilled Pork Tenderloin
"This is a wonderful tenderloin that tastes best when marinated for 24 hours."
Ingredients
1/4 cup honey
1/4 cup soy sauce
1/4 cup oyster sauce
2 tablespoons brown sugar
4 teaspoons minced fresh ginger root
1 tablespoon ketchup
1 tablespoon minced garlic
1 tablespoon chopped fresh parsley
1/4 teaspoon onion powder
1/4 teaspoon cayenne pepper
1/4 teaspoon ground cinnamon
2 (12 ounce) pork tenderloins
Directions
Whisk honey, soy sauce, oyster sauce, brown sugar, ginger, ketchup, garlic, parsley, onion powder, cayenne pepper, and cinnamon in a bowl; pour into a resealable plastic bag. Add pork, coat with marinade, squeeze out excess air, and seal the bag. Marinate in the refrigerator for up to 24 hours.
Preheat grill for medium heat and lightly oil the grate. Remove pork from the marinade, and shake off excess. Discard the remaining marinade.
Cook the pork tenderloins on preheated grill until no longer pink in the center, 20 to 30 minutes, turning occasionally. An instant-read thermometer inserted into the center should read at least 145 degrees F (63 degrees C).
ALL RIGHTS RESERVED © 2019 Allrecipes.com
Printed From Allrecipes.com 9/21/2019