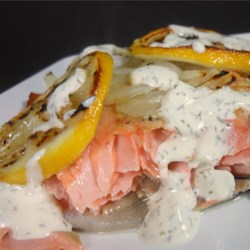 Salmon with Creamy Dill Sauce
"I served this with spaghetti. I tossed the hot, drained noodles with enough of the sauce to coat, plated the spaghetti, topped with the salmon and dressed the salmon with another dollop of the sauce, and garnished with a few more capers."
Ingredients
1 (2 pound) salmon fillet
1 teaspoon lemon-pepper seasoning
1 teaspoon onion salt
1 small onion, sliced and separated into rings
6 slices lemon
1/4 cup butter, cut into small chunks
1/3 cup sour cream
1/3 cup mayonnaise
1/4 cup dry white wine
1 tablespoon capers
1 tablespoon finely chopped onion
1 tablespoon caper brine
1 teaspoon lemon juice
1 teaspoon prepared horseradish
3/4 teaspoon dried dill weed
1/4 teaspoon garlic salt
ground black pepper to taste
Directions
Preheat oven to 350 degrees F (175 degrees C). Line a baking sheet with aluminum foil; grease the foil lightly.
Place salmon fillet with skin side down on foil. Season salmon with lemon-pepper and onion salt; top with onion rings and lemon slices, dot with butter. Fold foil around salmon and seal tightly.
Bake in preheated oven for 20 minutes. Unseal the foil and turn the oven's broiler on. Continue cooking the salmon under the broiler until the flesh flakes easily with a fork, 8 to 12 minutes.
While the salmon bakes, stir sour cream, mayonnaise, white wine, capers, chopped onion, caper brine, lemon juice, horseradish, dill weed, garlic salt, and black pepper together in a bowl. Serve with the salmon.
ALL RIGHTS RESERVED © 2019 Allrecipes.com
Printed From Allrecipes.com 8/26/2019