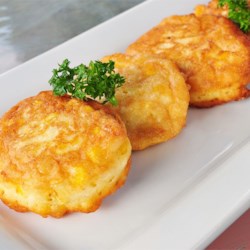 Fresh Sweet Corn Fritters
Recipe By:
Lee A Vazquez-fitzmaurice
"Unbelievably light, these fritters are best with fresh sweet corn. Great for breakfast and with ham or ribs. Serve with maple syrup. Easy to make too! My husband loves these and anticipates corn season."
Ingredients
125 g all-purpose flour
5 g baking powder
3 ears fresh corn, kernels cut from cob
2 eggs, separated
120 ml heavy whipping cream
salt and freshly ground pepper to taste
945 ml vegetable oil for frying, or as needed
30 ml cane syrup, or as desired (optional)
Directions
Whisk flour and baking powder into a bowl and mix in corn kernels. Whisk egg yolks with cream in a small bowl and stir into the corn mixture; season with salt and black pepper. Beat egg whites with an electric mixer until fluffy and stiff peaks form in a separate bowl. Gently fold egg whites into the batter, retaining as much volume as possible.
Pour vegetable oil into a deep heavy skillet to a depth of 3 inches. Heat to 375 degrees F (190 degrees C).
Drop fritters into the hot oil, 2 to 3 tablespoons at a time, and cook until golden brown, 2 to 3 minutes per side. Drain fritters on paper towels and serve drizzled with cane syrup.
ALL RIGHTS RESERVED © 2018 Allrecipes.com
Printed From Allrecipes.com 7/19/2018