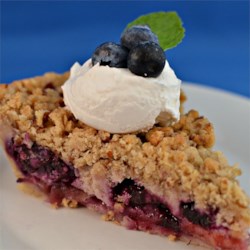 Creamy Apple Blueberry Pie
Recipe By:
Megan Karlowsky
"This is a wonderful pie I have created out of a few other recipes. It is a nice blend of fruit and cream with a crispy top."
Ingredients
3 cups sliced apples
1 cup blueberries
1 (9 inch) unbaked deep dish pie crust
1/4 cup all-purpose flour
1/2 cup white sugar
1/4 teaspoon salt
1/4 teaspoon ground nutmeg
1/4 teaspoon ground cinnamon, or more to taste
1 cup plain yogurt
1 egg
1 teaspoon vanilla extract
1/2 cup all-purpose flour
1/2 cup chopped pecans
1/2 cup rolled oats
1/4 cup brown sugar
1/2 cup butter
Directions
Preheat oven to 400 degrees F (200 degrees C). Toss apples and blueberries in the unbaked pie crust.
Mix 1/4 cup flour, white sugar, salt, nutmeg, and cinnamon in a bowl. Stir in yogurt, egg, and vanilla extract; pour batter over apples and blueberries.
Combine 1/2 cup flour, pecans, oats, and brown sugar in a mixing bowl. Cut in butter with a knife or pastry blender until the mixture resembles coarse crumbs; set aside.
Bake in preheated oven for 15 minutes; reduce heat to 350 degrees F (175 degrees C) and continue baking pie crust is lightly browned, about 30 minutes. Sprinkle crumb mixture over pie and bake until golden brown, about 15 minutes more. Cool before serving.
ALL RIGHTS RESERVED © 2020 Allrecipes.com
Printed From Allrecipes.com 2/26/2020