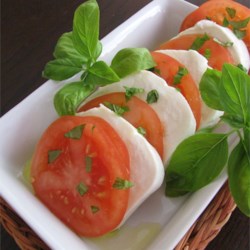 "Mozzarella slices are served with tomatoes, fresh basil, and sprinkled with olive oil. A perfect salad alternative, especially in summer when you can get tomatoes and basil from the garden."
Ingredients
3 large tomatoes, sliced
8 ounces mozzarella cheese, sliced
1/4 cup olive oil
1/4 cup balsamic vinegar
1/4 teaspoon salt
1/8 teaspoon ground black pepper
1/4 cup minced fresh basil
Directions
Place tomato slices, alternating with mozzarella slices, on a large serving platter.
Combine oil, balsamic vinegar, salt, and pepper in a jar with a tight-fitting lid; shake well. Drizzle over tomatoes and mozzarella; sprinkle with basil.
ALL RIGHTS RESERVED © 2021 Allrecipes.com
Printed From Allrecipes.com 9/16/2021