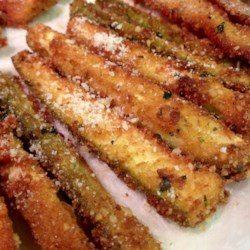 "Turn your fresh zucchini into a great appetizer using breadcrumbs and Parmesan. Excellent served hot, but equally delicious prepared ahead of time and served at room temperature."
Ingredients
1/2 cup Italian seasoned bread crumbs
1/2 cup grated Parmesan cheese
2 teaspoons garlic powder
1 teaspoon dried parsley
ground black pepper to taste
3 zucchinis, sliced
2 eggs, beaten
1 cup vegetable oil for frying
1 tablespoon grated Parmesan cheese, or more to taste
salt to taste
Directions
Mix bread crumbs, 1/2 cup Parmesan cheese, garlic powder, parsley, and black pepper in a bowl. Dip zucchini slices into eggs, then press into bread crumb mixture, shaking off excess. Place the breaded zucchini onto a plate while breading the rest; do not stack.
Heat vegetable oil in a large skillet over medium heat. Fry breaded zucchini in hot oil in batches until golden brown, about 3 minutes; transfer to a paper towel-lined plate. Sprinkle with 1 tablespoon Parmesan cheese and salt.
ALL RIGHTS RESERVED © 2019 Allrecipes.com
Printed From Allrecipes.com 10/15/2019