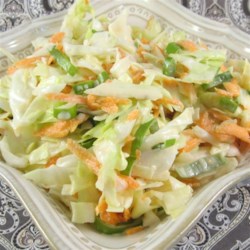 "Just an old family recipe that I have been told is reminiscent of KFC coleslaw. You be the judge! To speed things up I sometimes just buy an already shredded bag of cabbage with carrots in it and then just chop it a little finer."
Ingredients
1 head cabbage, finely shredded
2 carrots, finely chopped
2 tablespoons finely chopped onion
1/2 cup mayonnaise
1/3 cup white sugar
1/4 cup milk
1/4 cup buttermilk
2 tablespoons lemon juice
2 tablespoons distilled white vinegar
1/2 teaspoon salt
1/8 teaspoon ground black pepper
Directions
Mix cabbage, carrots, and onion in a large salad bowl. Whisk mayonnaise, sugar, milk, buttermilk, lemon juice, vinegar, salt, and black pepper in a separate bowl until smooth and the sugar has dissolved.
Pour dressing over cabbage mixture and mix thoroughly. Cover bowl and refrigerate slaw at least 2 hours (the longer the better). Mix again before serving.
ALL RIGHTS RESERVED © 2019 Allrecipes.com
Printed From Allrecipes.com 6/17/2019