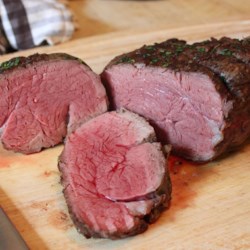 "One secret of this beef tenderloin is the slow oven, which allows for a gentle roasting, and produces an even, rosy hue throughout the muscle. The other trick is roasting the beef on top of the pan sauce, which not only flavors the meat, but also humidifies the oven for a moist, aromatic cooking environment."
Ingredients
1/3 cup dried porcini mushrooms
1 cup warm water
2 1/2 pounds trimmed beef tenderloin roast, tied
salt and ground black pepper to taste
1 tablespoon vegetable oil
1 tablespoon unsalted butter
1/2 cup sliced shallots
1 pinch salt
1/4 cup tarragon vinegar
1 cup veal stock
1/4 cup heavy cream
1 tablespoon unsalted butter
1 tablespoon chopped fresh tarragon
salt and ground black pepper to taste
Directions
Combine porcini mushrooms and water in a bowl; soak until soft, 1 hour. Drain and reserve liquid. Dice and set mushrooms and reserved liquid aside.
Preheat oven to 325 degrees F (165 degrees C).
Season beef generously with salt and pepper. Heat vegetable oil in a large ovenproof skillet over high heat. Place beef in the skillet; cook until brown on all sides, 5 to 8 minutes per side.
Reduce heat to medium and stir in 1 tablespoon butter, shallots, and a pinch of salt; cook until shallots are soft and translucent, 5 to 7 minutes.
Pour tarragon vinegar into the skillet and bring to a boil while scraping any browned bits off of the bottom. Stir until liquid is reduced by half, 2 to 4 minutes.
Pour in veal stock, cream, 1/2 cup reserved mushroom liquid, mushrooms, salt, and pepper; stir to combine. Return beef to the skillet.
Roast in the preheated oven until meat is medium rare, about 45 minutes. An instant-read thermometer inserted into the center should read 130 degrees F (54 degrees C). Transfer meat to a plate and loosely tent with foil. Set skillet over high heat and bring pan juices to a boil.
Stir in 1 tablespoon butter and tarragon; season with salt and pepper to taste. Return tenderloin and any accumulated juices to skillet and serve.
ALL RIGHTS RESERVED © 2019 Allrecipes.com
Printed From Allrecipes.com 4/26/2019