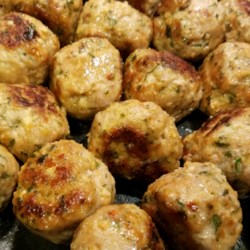 Recipe By:
Melt Organic Buttery Spread
"These lean meatballs are filled with the flavors of Italy with fresh herbs, parmesan cheese, and seasoned bread crumbs."
Ingredients
1 1/2 pounds ground lean turkey
1/4 cup shredded Parmesan cheese
2/3 cup dry Italian bread crumbs
1/3 cup chopped fresh parsley
3 tablespoons chopped fresh oregano
2 teaspoons chopped fresh rosemary
1 teaspoon dry mustard
1/4 cup tomato sauce
1/4 teaspoon salt
1/2 teaspoon crushed red pepper
3 garlic cloves, minced
2 teaspoons Melt(R) Organic Buttery Spread, softened
Directions
Preheat the oven to 400 degrees.
Combine all the ingredients together except for the Melt(R); stir well in a bowl. Form around 30 balls out of the mixture. Put them on a broiler pan coated with the melted Melt. Bake around 15 minutes or until a cut meatball shows no pink inside. Serve with pasta and sauce or place on a sandwich.
ALL RIGHTS RESERVED © 2018 Allrecipes.com
Printed From Allrecipes.com 6/23/2018