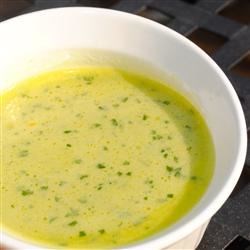 Orange Vinaigrette Dressing
"Can be all raw. Great on spinach salad with oranges or other lettuce and fruit salads."
Ingredients
1 tablespoon chopped fresh parsley
1/4 cup freshly squeezed orange juice
1 tablespoon raw honey
1/4 cup olive oil
2 tablespoons white wine vinegar
1/2 teaspoon grated orange peel
1/4 teaspoon salt
1/8 teaspoon cayenne pepper
Directions
Combine the parsley, orange juice, honey, olive oil, white wine vinegar, grated orange peel, salt, and cayenne pepper in a blender, and pulse until blended. Refrigerate 4 hours for best flavor. Shake gently just before serving.
ALL RIGHTS RESERVED © 2019 Allrecipes.com
Printed From Allrecipes.com 5/23/2019