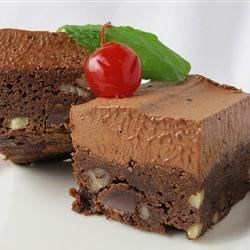 "This is a recipe I found in one of my grandma's recipe books, and she had them titled Wundervulle Schokoladenkuchen, and they really are wonderful! It was dated 1948, and originally called for cups of chocolate chunks, but was crossed out at some point and Nestle(R) chocolate chips was written in. These are for the real chocolate lover. A little time intensive, but really worth the wait! Enjoy!"
Ingredients
2 (12 ounce) bags semi-sweet chocolate chips
2/3 cup butter
1 cup white sugar
4 eggs
1 cup all-purpose flour
1/2 teaspoon salt
2 teaspoons vanilla extract
1 cup chopped pecans
1 1/2 cups heavy cream
1/4 cup butter
1 (12 ounce) bag semi-sweet chocolate chips
Directions
Preheat oven to 350 degrees F (175 degrees C). Grease a 9x13-inch baking pan.
Melt 1 12-ounce package of chocolate chips in a saucepan with 2/3 cup of butter over very low heat, stirring constantly, until smooth. Watch carefully to avoid scorching; Remove from heat, and scrape into a large bowl. Beat in the sugar, a couple of tablespoons at a time, then beat in the eggs 2 at a time until the mixture is well combined. Stir in flour and salt until blended, then stir in the vanilla extract. Gently fold in 1 more 12-ounce package of chocolate chips and the pecans. Spread batter into the prepared baking pan.
Bake in the preheated oven until a toothpick inserted into the center of the brownies comes out with moist crumbs, about 35 minutes. Remove from oven and cool completely.
Mix the cream and 1/4 cup of butter together in a saucepan over low heat until the butter has melted, stirring constantly; pour in remaining 1 12-ounce bag of chocolate chips and stir to melt completely. Pour the mixture into a mixing bowl, and beat on Medium speed with an electric mixer until combined, about 1 minute; chill the frosting thoroughly, stirring occasionally, about 45 minutes to 1 hour. Mixture should be the consistency of thick cream; beat the frosting again with electric mixer until it forms stiff peaks, 3 to 5 minutes. Spread frosting on cooled brownies.
ALL RIGHTS RESERVED © 2019 Allrecipes.com
Printed From Allrecipes.com 5/26/2019