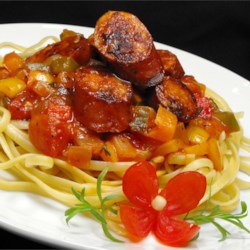 Sweet Italian Sausage Ragout with Linguine
Recipe By:
Jennifer Pease Rudolph
"When I used to work, this little Italian lady gave me this recipe. She told me that she made it all the time for her whole family because she had some picky eaters and it made a big batch. When company is coming, I just double it. This is now one of my family's favorites!"
Ingredients
1 (16 ounce) package linguine pasta
3 tablespoons olive oil
1 pound sweet Italian pork sausage, cut into 1/2-inch slices
1 large onion, chopped
3 cloves garlic, minced
2 red bell peppers, chopped
1 green bell pepper, chopped
1 (14.5 ounce) can diced tomatoes
1 cup marinara sauce
1/2 cup red wine
1/2 cup chopped fresh parsley
salt and ground black pepper to taste
Directions
Heat the olive oil in a Dutch oven or large skillet over medium-high heat. Cook the sausage in batches until browned on both sides, about 5 minutes. Transfer the cooked sausage to a plate while cooking the remaining sausage. Return all the sausage to the Dutch oven, and add the onion and garlic. Cook and stir until the onion is translucent, about 5 minutes. Stir in the red and green bell peppers. Cook until the peppers are tender, 7 to 10 more minutes.
Stir in the diced tomatoes, marinara sauce, red wine, and parsley. Season with salt and pepper. Cover and simmer, stirring occasionally, until all the vegetables are tender, about 30 minutes.
While sauce is simmering, fill a large pot with lightly salted water and bring to a rolling boil over high heat. Once the water is boiling, stir in the linguine, and return to a boil. Cook the pasta uncovered, stirring occasionally, until the pasta has cooked through, but is still firm to the bite, about 11 minutes. Drain well in a colander set in the sink. Serve the sauce over the linguine.
ALL RIGHTS RESERVED © 2019 Allrecipes.com
Printed From Allrecipes.com 5/24/2019