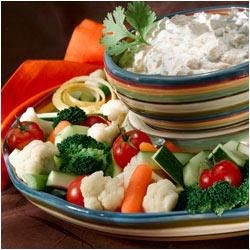 Recipe By:
Fruits & Veggies—More Matters(R)
"This easy-to-fix dip combines the popular flavors of Mexico in a creamy snack that's suitable for both vegetable and chip appetizers. Once the yogurt has drained, it takes only 30 minutes to whip up this delicious treat. Easily add vegetables to your day while wallowing in a creamy decadence without noticing how good it is for you!"
Ingredients
3 cups low-fat plain yogurt, drained for 3 hours*
1 (4 ounce) can chopped green chilies, drained
1/4 cup prepared Mexican salsa
1/4 cup finely chopped cilantro
1 teaspoon ground cumin
1 teaspoon dried oregano leaves, crushed
1/4 cup finely chopped green onions
1 tablespoon lime juice
1/8 teaspoon salt
Black pepper (optional)
Tortilla chips (optional)
1 (13.5 ounce) package tortilla chips (optional)
Cilantro leaves, for garnish
6 cups assorted snacking vegetables such as: baby carrots, cauliflower or broccoli flowerets, celery sticks, cherry tomatoes, cucumbers, zucchini sticks
Directions
In a medium-sized bowl, combine the drained yogurt with all remaining ingredients, except salt and pepper. Allow to chill covered for 15 minutes or more. Before serving, adjust seasonings, if desired.
Prepare all vegetables.** Arrange on a large platter surrounding a medium-sized soup bowl. Optional: serve chips in a basket.
When ready, spoon dip into center bowl, garnish with additional cilantro and serve. Enjoy!
ALL RIGHTS RESERVED © 2021 Allrecipes.com
Printed From Allrecipes.com 12/5/2021