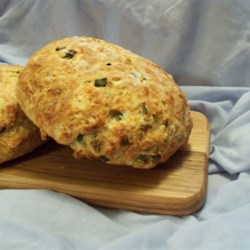 Jim's Cheddar Onion Soda Bread
"I begged this recipe from my co-worker when he 'accidentally' mentioned he had a great soda bread recipe. It was perfect timing, because St. Patrick's Day was only days away!"
Ingredients
4 cups bread flour, plus more for dusting
1 1/2 teaspoons salt
1 tablespoon baking powder
6 tablespoons butter, softened
1 1/4 cups buttermilk
2 tablespoons confectioners' sugar
3/4 cup finely chopped onion
3/4 cup shredded Cheddar cheese
Directions
Preheat oven to 425 degrees F (220 degrees C). Line a baking sheet with parchment paper.
In a large mixing bowl, whisk together bread flour, salt, and baking powder until thoroughly combined. Beat in the butter, buttermilk, and confectioners' sugar to make a dough; gently mix in the onion and Cheddar cheese. Divide dough in half, and shape each half into a ball. Place the loaves onto the prepared baking sheet, and gently flatten to about 2 inches thick. Dust each loaf with flour.
Bake on a preheated oven until browned, about 30 minutes. Cool on racks for a few minutes; serve warm.
ALL RIGHTS RESERVED © 2021 Allrecipes.com
Printed From Allrecipes.com 4/13/2021