This ad will not print with your recipe
Quick Alfredo Sauce
This alfredo sauce is lower in fat than most, as it is made with half and half. This is delicious over pasta and is easy to make. You can also make it the day before and refrigerate it until ready to use. Serve with a Caesar salad, and you have a delicious meal done in less than an hour.
By distasi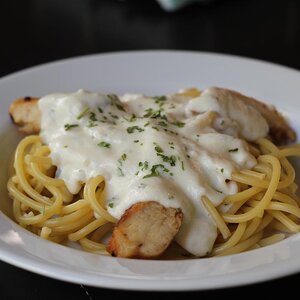 Ingredients
Original recipe yields 8 servings
Nutrition Facts
Per Serving:
160 calories; protein 3.6g; carbohydrates 6.1g; fat 13.7g; cholesterol 40.6mg; sodium 230.9mg.
Full Nutrition
This ad will not print with your recipe
Ads will not print with your recipe
Advertisement