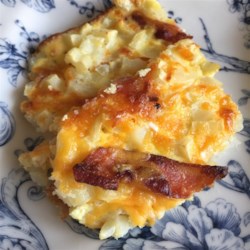 "Not only is this casserole easy to make and great tasting, it's pleasing to the eyes with it's shades of golden brown, yellow, and green. This dish is great served with sliced fruit and toast or muffins. You may substitute chopped cooked ham for the bacon if you wish."
Ingredients
6 slices bacon
5 eggs
1/2 cup milk
3 cups frozen hash brown potatoes, thawed
1/3 cup chopped green onions
1 1/2 cups shredded Cheddar cheese, divided
Directions
Place bacon in a large, deep skillet. Cook over medium high heat until evenly brown. Drain, crumble, and set aside.
Preheat oven to 350 degrees F (175 degrees C). Lightly grease a 7x11 inch baking dish.
In a large bowl, beat together the eggs and milk. Stir in the bacon, hash browns, green onions, and 1 cup shredded Cheddar cheese. Pour into the prepared baking dish.
Bake in the preheated oven 25 to 35 minutes, or until a knife inserted in the center comes out clean. Sprinkle the remaining Cheddar cheese on top, and continue baking for 3 to 4 minutes, or until the cheese is melted. Remove from oven, and let sit 5 minutes before serving.
ALL RIGHTS RESERVED © 2019 Allrecipes.com
Printed From Allrecipes.com 9/20/2019