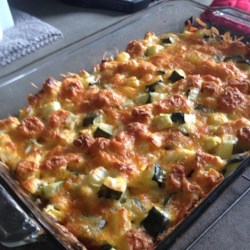 Cheesy Zucchini Casserole I
"This is a good, cheesy, vegetable side dish ...very easy to prepare."
Ingredients
4 slices bread, cubed
1/4 cup melted butter
2 cups cubed zucchini
1 large onion, chopped
1 teaspoon garlic salt
1 egg, beaten
2 cups shredded Cheddar cheese
Directions
Preheat oven to 350 degrees F (175 degrees C).
Place bread cubes in a medium bowl and pour melted butter over the bread. Add the zucchini, onion, garlic salt and egg; mix well. Transfer the mixture into a 9x13 inch baking dish and top with the cheese.
Bake, covered, in preheated oven for 30 minutes. Then uncover the dish and bake for another 30 minutes.
ALL RIGHTS RESERVED © 2020 Allrecipes.com
Printed From Allrecipes.com 12/1/2020