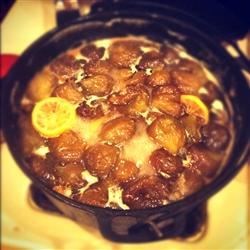 "Fig Preserves"
Ingredients
2640 g fresh figs
15 g baking soda
2845 ml boiling water
1600 g white sugar
950 ml water
1 lemon, sliced
Directions
In a large mixing bowl place figs and sprinkle with baking soda. Pour the boiling water over the figs and soak for 1 hour.
Drain figs and rinse thoroughly with cold water. In a large Dutch oven combine the sugar and the 4 cups of water; bring to a boil and cook for 10 minutes.
Add the figs and lemon slices to the syrup in the Dutch oven and cook for 1 hour, stirring occasionally.
Spoon figs into hot, sterilized jars and spoon syrup over figs, leaving 1/2 inch of head space. Top jars with lids and screw bands on tightly. Process for 10 minutes in a hot water bath.
ALL RIGHTS RESERVED © 2018 Allrecipes.com
Printed From Allrecipes.com 6/19/2018