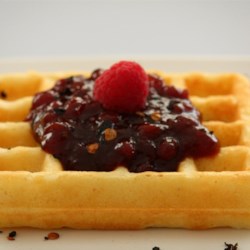 "Nice compliment to salmon, chicken, and pork. Can also be used as a sandwich spread or a dipping sauce for pretzels."
Ingredients
2 tablespoons olive oil
2 large jalapeno peppers, seeded and diced
2 cloves garlic, minced
4 teaspoons adobo sauce
2 (6 ounce) containers fresh raspberries
1/2 cup apple cider vinegar
1/2 teaspoon salt
1/4 cup brown sugar
1/2 cup white sugar
Directions
Heat olive oil in a skillet over medium heat. Stir in jalapenos; cook until tender, about 5 minutes. Mix in garlic, and adobo sauce; bring to a simmer. Stir the raspberries into the sauce; cook until soft, about 3 minutes. Stir in the vinegar, salt, brown sugar, and white sugar. Mix well. Simmer until thickened and reduced by half, about 15 minutes. Transfer sauce to a heatproof bowl; allow to cool to room temperature before serving, about 20 minutes.
ALL RIGHTS RESERVED © 2019 Allrecipes.com
Printed From Allrecipes.com 12/5/2019