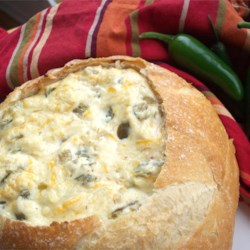 Insanely Amazing Jalapeno Cheese Dip
"Take this delicious, 5-minute prep, jalapeno cheese dip to BBQs, cookouts, parties, or any other occasion. This dish will make you the most popular person there! Serve with bread, crackers, or chips."
Ingredients
1 (4 ounce) can diced jalapeno peppers
1 cup shredded Parmesan cheese
1/2 cup shredded Cheddar cheese
1 cup mayonnaise
1 (4 ounce) can chopped green chilies
1 round loaf sourdough bread
Directions
Preheat an oven to 350 degrees F (175 degrees C).
Combine jalapeno peppers, Parmesan cheese, Cheddar cheese, mayonnaise, and green chilies in a bowl. Cut the top off of the sourdough bread and hollow out the center to create a bowl. Fill the bread bowl with the jalapeno mixture.
Bake in the preheated oven for 30 minutes.
ALL RIGHTS RESERVED © 2019 Allrecipes.com
Printed From Allrecipes.com 9/15/2019