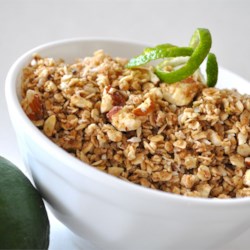 Honey-Lime Granola with Almonds
"This granola may sound strange, but the taste is out of this world! The lime gives it a tangy and wonderful flavor that makes your mouth water for more!"
Ingredients
3 cups rolled oats
1 cup sliced almonds
1/4 cup wheat germ
1/2 cup shredded unsweetened coconut
1/2 cup oat bran
3 tablespoons flax seeds
1/2 cup honey
1/4 cup vegetable oil
2 tablespoons frozen limeade concentrate
1/2 teaspoon salt
1 teaspoon vanilla extract
1 small lime, zest and juice
Directions
Preheat an oven to 250 degrees F (120 degrees C). Lightly grease a foiled-lined baking sheet.
Mix oats, almonds, wheat germ, coconut, oat bran, and flax seeds together in a large bowl. Whisk together honey, vegetable oil, limeade concentrate, salt, vanilla, lime zest, and lime juice in a separate bowl. Pour lime mixture into the oat mixture and stir well. Spread oats on to the prepared pan.
Bake in the preheated oven until golden brown and lightly crispy, about 1 hour and 30 minutes, stirring every 15 minutes. Remove from the oven and allow to cool. Store in an airtight container at room temperature.
ALL RIGHTS RESERVED © 2021 Allrecipes.com
Printed From Allrecipes.com 1/17/2021