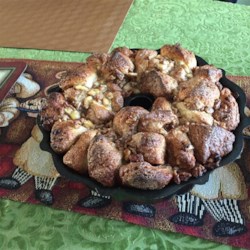 Bananas Foster Monkey Bread
"Just one extra ingredient changes the taste of this classic! Serve with Dulce Leche ice cream for a decadent dessert."
Ingredients
1/2 cup white sugar
1 tablespoon ground cinnamon
2 (7.5 ounce) packages buttermilk biscuit dough, cut into quarters
2 ripe bananas, coarsely chopped
1/4 cup chopped pecans
1/2 cup butter
1/2 cup packed light brown sugar
1 teaspoon vanilla
Directions
Preheat an oven to 400 degrees F (200 degrees C). Grease a loaf pan.
Shake the sugar and cinnamon together in a large plastic bag; add the biscuit dough, bananas, and pecans to the bag and shake to coat evenly. Pour the mixture into the prepared loaf pan.
Melt the butter in a saucepan over medium heat. Stir the brown sugar into the melted butter until completely dissolved. Add the vanilla and stir well. Pour the mixture over the biscuit dough.
Bake in the preheated oven until golden brown, 30 to 40 minutes. Allow to cool about 10 minutes before serving.
ALL RIGHTS RESERVED © 2018 Allrecipes.com
Printed From Allrecipes.com 6/20/2018