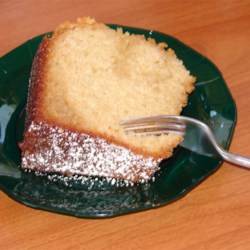 "This is the richest, most delicious pound cake you will ever eat. There is no substitute for real butter!"
Ingredients
3 cups cake flour
1 teaspoon baking powder
1/2 teaspoon baking soda
1 teaspoon salt
1 cup butter, softened
1 1/2 cups white sugar
1/2 cup brown sugar
4 eggs
2 tablespoons vanilla extract
1 cup sour cream
1 cup white sugar
1/2 cup butter
1/4 cup water
1 tablespoon vanilla extract
Directions
Preheat oven to 325 degrees F (165 degrees C). Grease and flour a 10 inch tube pan. Sift together the flour, baking powder, baking soda and salt. Set aside.
In a large bowl, cream together 1 cup butter, 1 1/2 cups white sugar and 1/2 cup brown sugar until light and fluffy. Beat in the eggs one at a time, then stir in the vanilla. Beat in the flour mixture alternately with the sour cream, mixing just until incorporated.
Pour batter into prepared pan. Bake in the preheated oven for 75 minutes, or until a toothpick inserted into the center of the cake comes out clean. Remove cake from oven and immediately prick cake all over with a wooden pick 20 to 30 times. Pour butter sauce over cake. Allow cake to cool completely as cake is very fragile when warm. Run a knife around the edges of the pan and invert cooled cake onto a serving dish. Dust with powdered sugar.
To make the Butter Sauce: Heat 1 cup sugar, 1/2 cup butter, 1/4 cup water and 1 tablespoon vanilla over medium heat until sugar dissolves, about 10 minutes. Do not boil.
ALL RIGHTS RESERVED © 2019 Allrecipes.com
Printed From Allrecipes.com 5/22/2019