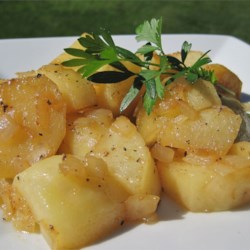 Honey Roasted Red Potatoes
"These slightly sweet potatoes are perfect with most entrees."
Ingredients
455 g red potatoes, quartered
20 g diced onion
30 g butter, melted
15 ml honey
4 g dry mustard
1 pinch salt
1 pinch ground black pepper
Directions
Preheat oven to 375 degrees F (190 degrees C). Lightly coat an 11x7 inch baking dish with nonstick cooking spray.
Place potatoes in a single layer in prepared dish, and top with onion. In a small bowl, combine melted butter, honey, mustard, salt and pepper; drizzle over potatoes and onion.
Bake in the preheated 375 degrees F (190 degrees C) oven for 35 minutes or until tender, stirring halfway through the cooking time.
ALL RIGHTS RESERVED © 2018 Allrecipes.com
Printed From Allrecipes.com 12/10/2018