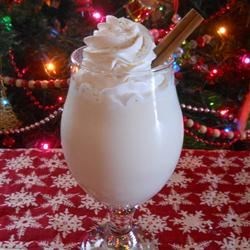 "When serving, keep the bowl of eggnog resting in a bowl of ice to keep it well chilled!"
Ingredients
3 eggs, lightly beaten
65 g white sugar
salt to taste
590 ml milk
5 ml vanilla extract
235 ml heavy cream
15 g confectioners' sugar
3 ml vanilla extract
120 ml rum (optional)
2 drops yellow food coloring (optional)
1 pinch ground nutmeg
Directions
In a heavy saucepan, combine eggs, white sugar, and salt; gradually stir in milk. Stirring constantly, cook for 10 to 15 minutes over medium heat, until mixture just coats a metal spoon. Remove from heat, and stir in 1 teaspoon vanilla extract. Place saucepan over ice water until custard cools, and then refrigerate until chilled.
In a chilled bowl, combine heavy cream, confectioners' sugar, and 1/2 teaspoon vanilla extract. Beat until stiff peaks form. Stir in rum and yellow food coloring. Fold whipped cream mixture into the cooled custard. Pour into serving bowl, and sprinkle with nutmeg. Serve immediately.
ALL RIGHTS RESERVED © 2018 Allrecipes.com
Printed From Allrecipes.com 6/24/2018