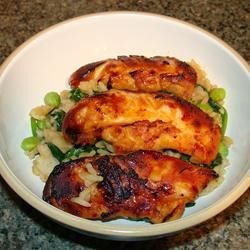 "Boneless chicken marinated in a miso (soy bean paste) sauce and grilled over an open fire. The miso is also mixed with beer, soy sauce, sugar, and sesame oil to give it a complex flavor."
Ingredients
1 cup miso paste
1 cup beer
1 cup low sodium soy sauce
1 cup white sugar
2 teaspoons sesame oil
1/8 teaspoon cayenne pepper
2 1/2 pounds skinless, boneless chicken breast halves
Directions
In a large bowl, combine the miso paste, beer, soy sauce, sugar, sesame oil, and cayenne pepper. Stir until the miso and sugar are completely dissolved. Set aside 1/2 cup of the sauce for basting during grilling. Submerge the chicken in the remaining marinade, cover bowl, and refrigerate for at least 2 hours.
Preheat grill for medium-high heat.
Lightly oil the grill grate. Remove the chicken from the marinade, and discard marinade. Grill chicken for 6 to 8 minutes per side, basting during the last few minutes with the reserved sauce. The chicken is done when it's juices run clear.
ALL RIGHTS RESERVED © 2019 Allrecipes.com
Printed From Allrecipes.com 8/18/2019