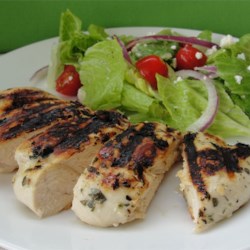 "This recipe is very easy to make! Perfect for summer barbeques, but it can be broiled indoors anytime. Always a favorite!"
Ingredients
1/3 cup vegetable oil
2 tablespoons lime juice
1/2 teaspoon grated lime zest
2 cloves crushed garlic
1 1/2 teaspoons fresh oregano
1/4 teaspoon red pepper flakes
1 teaspoon salt
1/4 teaspoon ground black pepper
6 skinless, boneless chicken breast halves
Directions
In a shallow glass dish, mix the oil, lime juice, lime zest, garlic, oregano, red pepper flakes, salt, and black pepper. Add chicken, and turn to coat. Cover, and marinate in the refrigerator for 1 hour, turning occasionally.
Preheat grill for medium-high heat.
Lightly oil the grill grate. Drain and discard marinade. Grill chicken for 6 to 8 minutes each side, or until juices run clear.
ALL RIGHTS RESERVED © 2021 Allrecipes.com
Printed From Allrecipes.com 3/1/2021