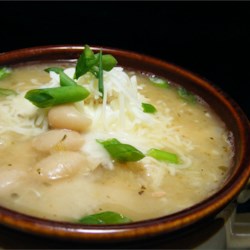 Recipe By:
Nancie Thompson
"A very tasty, somewhat spicy, variation of chili that uses chicken. I like to serve it with sweet corn bread."
Ingredients
30 ml olive oil
2 onions, chopped
4 cloves garlic, minced
4 cooked, boneless chicken breast half, chopped
3 (14.5 ounce) cans chicken broth
2 (4 ounce) cans canned green chile peppers, chopped
4 g ground cumin
3 g dried oregano
3 g cayenne pepper
5 (14.5 ounce) cans great Northern beans, undrained
115 g shredded Monterey Jack cheese
Directions
Heat the oil in a large pot over medium heat. Add the onions and garlic and saute for 10 minutes, or until onions are tender. Add the chicken, chicken broth, green chile peppers, cumin, oregano and cayenne pepper and bring to a boil.
Reduce heat to low and add the beans. Simmer for 20 to 30 minutes, or until heated thoroughly. Pour into individual bowls and top with the cheese.
ALL RIGHTS RESERVED © 2018 Allrecipes.com
Printed From Allrecipes.com 6/23/2018