This ad will not print with your recipe
Fruit Dip I
One of the most popular appetizers I know of. Fruit always disappears first, especially when served with this dip! Goes especially well with cantaloupe, pineapple, strawberries and honeydew melon.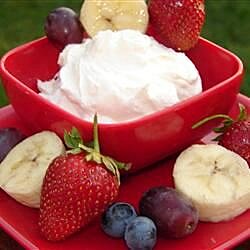 Ingredients
Original recipe yields 5 servings
Nutrition Facts
Per Serving:
409 calories; protein 4g 8% DV; carbohydrates 63.1g 20% DV; fat 15.9g 24% DV; cholesterol 49.3mg 16% DV; sodium 195.3mg 8% DV.
Full Nutrition
This ad will not print with your recipe
Ads will not print with your recipe
Advertisement