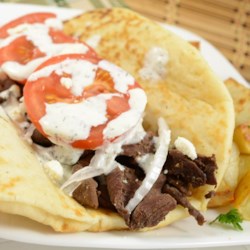 "This is a twist on the classic Greek sandwich."
Ingredients
2 tablespoons olive oil
1 1/2 tablespoons ground cumin
1 tablespoon minced garlic
2 teaspoons dried marjoram
2 teaspoons ground dried rosemary
1 tablespoon dried oregano
1 tablespoon red wine vinegar
salt and pepper to taste
3 pounds venison, cut into 1/4 thick strips
1 (12 ounce) package pita breads, warmed
Directions
Whisk together the olive oil, cumin, garlic, marjoram, rosemary, oregano, red wine vinegar, salt, and pepper in a large glass or ceramic bowl. Add the venison strips, and toss to evenly coat. Cover the bowl with plastic wrap, and marinate in the refrigerator at least 2 hours.
Heat a large skillet over medium-high heat. Cook the venison strips, a half pound at a time, until the venison has browned on the outside and is no longer pink on the inside, about 8 minutes. Pile the meat onto warmed pitas to serve.
ALL RIGHTS RESERVED © 2020 Allrecipes.com
Printed From Allrecipes.com 8/15/2020