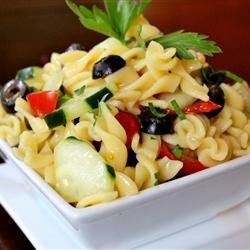 "Great for brunch, luncheons, or whatever. Easy and quick to make. I find that this salad is always popular at get-togethers and usually disappears rather quickly..."
Ingredients
390 g uncooked rotini pasta
2 cucumbers, chopped
0.5 onion, finely chopped
10 cherry tomatoes, quartered
105 g pitted black olives, sliced
235 ml Italian-style salad dressing
Directions
Fill a large pot with lightly salted water and bring to a rolling boil over high heat. Once the water is boiling, stir in the rotini, and return to a boil. Cook uncovered, stirring occasionally, until the pasta has cooked through, but is still firm to the bite, about 8 minutes. Drain and cool by running cold water over the pasta in a colander set in the sink.
Combine cooked and cooled pasta with the cucumbers, onion, tomatoes, and olives in a large bowl. Pour the Italian dressing over the salad and stir to combine. Cover and refrigerate for at least two hours before serving.
ALL RIGHTS RESERVED © 2018 Allrecipes.com
Printed From Allrecipes.com 6/24/2018