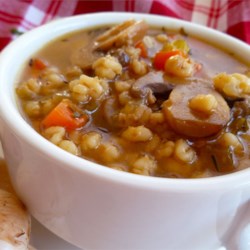 Very Easy Mushroom Barley Soup
"I love mushroom barley soup and I was originally making one that took about 3 hours to cook. This one is so simple and easy and takes a third of the time. If you like mushroom barley soup, you will really like this. It's perfect for a cold winter night."
Ingredients
1/4 cup olive oil
1 cup chopped onion
3/4 cup diced carrots
1/2 cup chopped celery
1 teaspoon minced garlic
1 pound sliced fresh mushrooms
6 cups chicken broth
3/4 cup barley
salt and pepper to taste
Directions
Heat the oil in a large soup pot over medium heat. Add the onion, carrots, celery and garlic; cook and stir until onions are tender and transparent. Stir in mushrooms and continue to cook for a few minutes. Pour in the chicken broth and add barley. Bring to a boil, then reduce heat to low. Cover and simmer until barley is tender, about 50 minutes. Season with salt and pepper before serving.
ALL RIGHTS RESERVED © 2020 Allrecipes.com
Printed From Allrecipes.com 2/19/2020