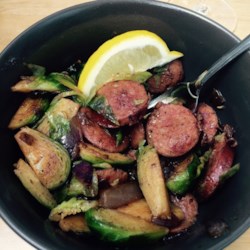 Kielbasa with Brussels Sprouts
"Kielbasa slices and baby Brussels sprouts cooked with red onion make a hearty main dish. I serve this with macaroni and cheese and a loaf of French bread. Even the kids love it! My husband likes to eat his with spicy brown mustard."
Ingredients
1 tablespoon canola oil
1 (16 ounce) package kielbasa sausage, sliced into 1/2 inch pieces
1 red onion, chopped
14 ounces baby Brussels sprouts, trimmed and cut in half
salt and ground black pepper to taste
Directions
Heat the oil in a large skillet over medium-high heat. Add the sausage and onion. Cook and stir until onion is translucent, 8 to 10 minutes. Add the Brussels sprouts, and cook 10 minutes more. Season with salt and pepper to taste.
ALL RIGHTS RESERVED © 2019 Allrecipes.com
Printed From Allrecipes.com 12/13/2019