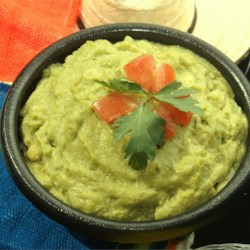 "The real trick to great guacamole is to use good avocados. Make sure your avocados are ripe and of the Haas variety! Serve this dip with corn chips, or an array of fresh vegetables."
Ingredients
2 avocados
1/2 lemon, juiced
2 tablespoons chopped onion
1/2 teaspoon salt
2 tablespoons olive oil
Directions
Cut the avocados into halves. Remove the seeds, and scoop out the pulp into a small bowl. Use a fork to mash the avocado. Stir in lemon juice, onion, salt, and olive oil. Cover the bowl, and refrigerate for 1 hour before serving.
ALL RIGHTS RESERVED © 2021 Allrecipes.com
Printed From Allrecipes.com 1/15/2021