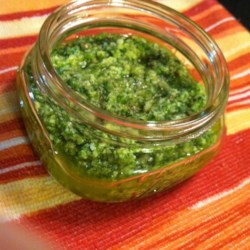 Cilantro Jalapeno Pesto with Lime
Recipe By:
Kelly Van Hooser Turner
"This is a spicy alternative to classic basil pesto. You can control the spiciness by using less jalapeno and by removing the seeds and white membrane of the pepper before adding it to the pesto. If you like the spice, just throw it all in!"
Ingredients
1 bunch fresh cilantro
2 1/2 tablespoons toasted pine nuts
1/4 cup extra virgin olive oil
5 cloves garlic
1 tablespoon fresh lime juice
1/2 fresh jalapeno pepper, seeded
1/4 cup grated Parmesan cheese
Directions
Combine the cilantro, pine nuts, olive oil, garlic, lime juice, jalapeno pepper, and Parmesan cheese in a blender; pulse until the mixture reaches a soft, paste-like consistency.
ALL RIGHTS RESERVED © 2019 Allrecipes.com
Printed From Allrecipes.com 11/18/2019