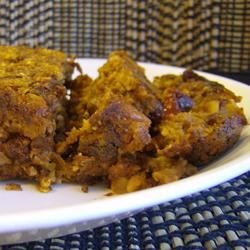 "This recipe makes 6 individual loaves, but can also be made as one larger loaf. Serve with cucumber salad or raita."
Ingredients
1 1/2 pounds ground beef
3/4 cup quick cooking oats
1/2 cup chopped onion
1/2 cup chopped, peeled apple
1/3 cup raisins
1/3 cup finely chopped peanuts
1/3 cup ketchup
1 egg
2 1/2 teaspoons curry powder
1 1/3 teaspoons ground cinnamon
1 1/4 teaspoons salt
Directions
Preheat oven to 375 degrees F (190 degrees C).
In a large mixing bowl, mix together ground beef, oats, onion, apple, raisins, peanuts, ketchup, egg, curry powder, cinnamon, and salt. Shape to form six 4x2 inch loaves. Place in a large shallow pan.
Bake for about 25 to 30 minutes, or until done.
ALL RIGHTS RESERVED © 2020 Allrecipes.com
Printed From Allrecipes.com 2/22/2020