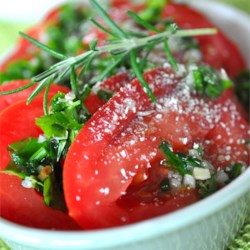 Sliced Tomatoes with Fresh Herb Dressing
"Enjoy this easy and delicious summer garden treat with no cooking involved! I serve this at church dinners and never have enough. If you can make this a few hours in advance, the flavors become even better."
Ingredients
4 large ripe tomatoes, sliced
1/4 cup olive oil
2 tablespoons chopped fresh thyme leaves
2 tablespoons chopped fresh oregano
2 tablespoons chopped fresh parsley
2 tablespoons chopped fresh chives
2 tablespoons minced garlic
1/4 cup freshly grated Parmesan cheese
salt and ground black pepper to taste
Directions
Arrange the tomato slices in a shallow casserole dish. Whisk together the olive oil, thyme, oregano, parsley, chives, and garlic in a small bowl. Add salt and pepper to taste. Pour herb mixture over the tomatoes, covering evenly. Top with Parmesan cheese. Cover, and refrigerate at least 1 hour before serving.
ALL RIGHTS RESERVED © 2019 Allrecipes.com
Printed From Allrecipes.com 12/11/2019