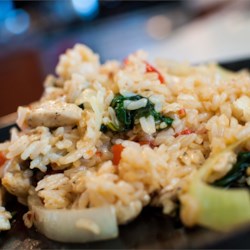 Thai Spicy Basil Chicken Fried Rice
"This is a staple of Thai cooking. Adjust the spices to your own tastes for a really great use for leftover rice!! I get the basil from a local Asian market. It has a different flavor than that of regular basil and makes all the difference in this recipe. It is fast and fairly easy to make, but requires constant stirring."
Ingredients
10 g oyster sauce
30 ml fish sauce
4 g white sugar
120 ml peanut oil for frying
770 g cooked jasmine rice, chilled
6 large cloves garlic clove, crushed
2 serrano peppers, crushed
455 g boneless, skinless chicken breast, cut into thin strips
1 red pepper, seeded and thinly sliced
1 onion, thinly sliced
85 g sweet Thai basil
1 cucumber, sliced (optional)
25 g cilantro sprigs (optional)
Directions
Whisk together the oyster sauce, fish sauce, and sugar in a bowl.
Heat the oil in a wok over medium-high heat until the oil begins to smoke. Add the garlic and serrano peppers, stirring quickly. Stir in the chicken, bell pepper, onion and oyster sauce mixture; cook until the chicken is no longer pink. Raise heat to high and stir in the chilled rice; stir quickly until the sauce is blended with the rice. Use the back of a spoon to break up any rice sticking together.
Remove from heat and mix in the basil leaves. Garnish with sliced cucumber and cilantro as desired.
ALL RIGHTS RESERVED © 2018 Allrecipes.com
Printed From Allrecipes.com 6/23/2018