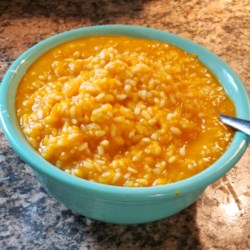 Recipe By:
Andrea Longo Policella
"If you like the natural sweet flavor of butternut squash, you'll love this risotto! It is so creamy and full of flavor! Great as a side dish or main course."
Ingredients
2 cups cubed butternut squash
2 tablespoons butter
1/2 onion, minced
1 cup Arborio rice
1/3 cup dry white wine
5 cups hot chicken stock
1/4 cup grated Parmesan cheese
salt and ground black pepper to taste
Directions
Place squash cubes into a steamer basket in a saucepan. Add water, cover, and bring to a boil over medium-high heat. Allow to steam until the squash is tender (10 to 15 minutes), then drain, and mash in a bowl with a fork.
Melt butter in a saucepan over medium-high heat. Add onion; cook and stir for 2 minutes until the onion begins to soften, then stir in the rice. Continue cooking and stirring until the rice is glossy from the butter, and the onion begins to brown on the edges, about 5 minutes more.
Pour in the white wine; cook, stirring constantly, until it has evaporated. Stir in the mashed squash and 1/3 of the hot chicken stock; reduce heat to medium. Cook and stir until the chicken stock has been absorbed by the rice, 5 to 7 minutes. Add half of the remaining chicken stock, and continue stirring until it has been absorbed. Finally, pour in the remaining stock, and continue stirring until the risotto is creamy. Finish by stirring in the Parmesan cheese, and seasoning to taste with salt and pepper.
ALL RIGHTS RESERVED © 2020 Allrecipes.com
Printed From Allrecipes.com 1/28/2020