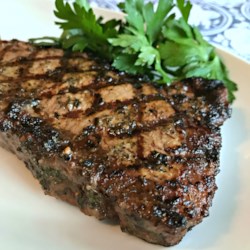 Best Steak Marinade in Existence
"This is a family recipe that has been developed only over the last 5 years. In this short time it's made me famous in our close circle, but until now I've never shared it with anyone."
Ingredients
80 ml soy sauce
120 ml olive oil
80 ml fresh lemon juice
60 ml Worcestershire sauce
10 g garlic powder
8 g dried basil
2 g dried parsley flakes
2 g ground white pepper
1 ml hot pepper sauce (optional)
3 g dried minced garlic (optional)
Directions
Place the soy sauce, olive oil, lemon juice, Worcestershire sauce, garlic powder, basil, parsley, and pepper in a blender. Add hot pepper sauce and garlic, if desired. Blend on high speed for 30 seconds until thoroughly mixed.
Pour marinade over desired type of meat. Cover, and refrigerate for up to 8 hours. Cook meat as desired.
ALL RIGHTS RESERVED © 2018 Allrecipes.com
Printed From Allrecipes.com 11/15/2018