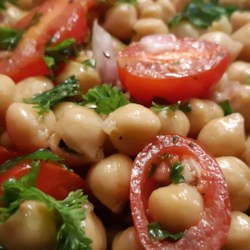 Chickpea Salad with Red Onion and Tomato
"A good chickpea salad, that is low-fat and high in protein."
Ingredients
19 ounces garbanzo beans, drained
2 tablespoons red onion, chopped
2 cloves garlic, minced
1 tomato, chopped
1/2 cup chopped parsley
3 tablespoons olive oil
1 tablespoon lemon juice
salt and pepper to taste
Directions
In a large bowl, combine the chickpeas, red onion, garlic, tomato, parsley, olive oil, lemon juice and salt and pepper to taste. Chill for 2 hours before serving. Taste and adjust seasoning. Serve.
ALL RIGHTS RESERVED © 2019 Allrecipes.com
Printed From Allrecipes.com 10/23/2019