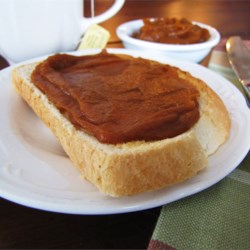 Recipe By:
Eleanor Johnson
"This pumpkin butter is an excellent hostess present, and is a wonderful spread for toast and muffins. It can also be used to make a spectacular holiday dessert, Pumpkin Pecan Cheesecake."
Ingredients
1 (29 ounce) can pumpkin puree
180 ml apple juice
4 g ground ginger
1 g ground cloves
300 g white sugar
5 g ground cinnamon
3 g ground nutmeg
Directions
Combine pumpkin, apple juice, spices, and sugar in a large saucepan; stir well. Bring mixture to a boil. Reduce heat, and simmer for 30 minutes or until thickened. Stir frequently.
Transfer to sterile containers and chill in the refrigerator until serving.
ALL RIGHTS RESERVED © 2018 Allrecipes.com
Printed From Allrecipes.com 10/18/2018