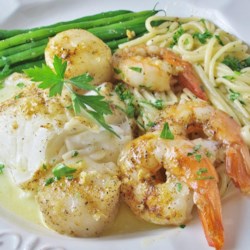 "A quick, easy and delicious way to make a romantic seafood dinner!"
Ingredients
2 (4 ounce) halibut fillets
6 scallops
6 peeled and deveined jumbo shrimp, tail still attached
1/3 cup dry white wine
2 tablespoons melted butter
1 tablespoon lemon juice
1/2 teaspoon seafood seasoning, such as Old Bay(TM)
1 teaspoon minced garlic
Salt and pepper to taste
1 tablespoon chopped fresh parsley
Directions
Preheat oven to 450 degrees F (230 degrees C).
Arrange the halibut, scallops, and shrimp in an oven-safe, glass baking dish. Drizzle with wine, butter, and lemon juice. Sprinkle with the seasoning and garlic. Season to taste with salt and pepper.
Bake in preheated oven until the halibut has turned white, and is flaky, 10 to 12 minutes. Sprinkle with parsley just before serving.
ALL RIGHTS RESERVED © 2019 Allrecipes.com
Printed From Allrecipes.com 10/21/2019