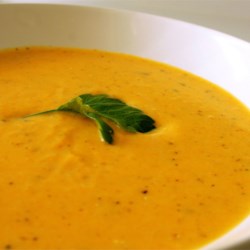 "Delicious and very easy to make. You can use 3 to 4 cups of chicken broth instead of the water and bouillon cubes. Also works well with half as much cream cheese if you don't want it too rich."
Ingredients
60 g chopped onion
55 g margarine
840 g peeled and cubed butternut squash
710 ml water
4 cubes chicken bouillon
0.3 g dried marjoram
0.5 g ground black pepper
0.2 g ground cayenne pepper
2 (8 ounce) packages cream cheese
Directions
In a large saucepan, saute onions in margarine until tender. Add squash, water, bouillon, marjoram, black pepper and cayenne pepper. Bring to boil; cook 20 minutes, or until squash is tender.
Puree squash and cream cheese in a blender or food processor in batches until smooth. Return to saucepan, and heat through. Do not allow to boil.
ALL RIGHTS RESERVED © 2018 Allrecipes.com
Printed From Allrecipes.com 10/19/2018