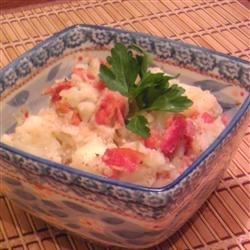 Brian's German Potato Salad
"This is the best German Potato Salad recipe. I made a few changes on a recipe originally given to me by my next door neighbor, when I was planning an Octoberfest party. It is a hit every time I serve it!"
Ingredients
4 pounds red potatoes, halved
1 pound Bacon, cut into 1/2-inch pieces
1 cup chopped onion
1/4 cup all-purpose flour
1/4 cup white sugar
1 1/2 teaspoons salt
1 cup apple cider vinegar
2 teaspoons celery seed
2 tablespoons chopped fresh parsley
Directions
Place the potatoes into a large pot and cover with salted water. Bring to a boil; reduce heat to medium-low, cover, and simmer until just tender, about 10 minutes. Drain and allow to steam dry for a minute or two; cut into 1/2-inch pieces and place into a large mixing bowl.
Meanwhile, stir the bacon and onion together in a large skillet over medium heat until the fat has rendered from the bacon and the onion is very tender but not brown, about 15 minutes. Stir in the flour, sugar, and salt; cook for 1 minute. Pour in the vinegar; bring to a simmer and cook until slightly thickened, about 5 minutes.
Pour the dressing over the potatoes and sprinkle with celery seed and parsley. Stir gently to combine. Serve hot.
ALL RIGHTS RESERVED © 2019 Allrecipes.com
Printed From Allrecipes.com 5/23/2019