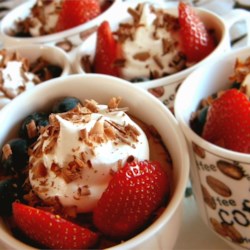 Heavenly Chocolate Mousse
Recipe By:
Christy Freeman
"'Heaven on a spoon' is how one friend describes this chocolaty dessert. My husband, Allen rates it best of all the special treats I've made. The filling can also be used for a pie."
Ingredients
8 (1 ounce) squares semisweet chocolate, coarsely chopped
1/2 cup water, divided
2 tablespoons butter (no substitutes)
3 egg yolks
2 tablespoons sugar
1 1/4 cups whipping cream, whipped
Directions
In a microwave or double boiler, heat chocolate, 1/4 cup water and butter until the chocolate and butter are melted. Cool for 10 minutes. In a small heavy saucepan, whisk egg yolks, sugar and remaining water. Cook and stir over low heat until mixture reaches 160 degrees F, about 1-2 minutes. Remove from the heat; whisk in chocolate mixture. Set saucepan in ice and stir until cooled, about 5-10 minutes. Fold in whipped cream. Spoon into dessert dishes. Refrigerate for 4 hours or overnight.
ALL RIGHTS RESERVED © 2021 Allrecipes.com
Printed From Allrecipes.com 10/27/2021