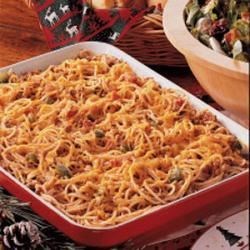 "It's not uncommon for folks to go back for second helpings of this hearty main dish when I share it at church potluck suppers. The combination of ground beef, noodles, cheese and a zippy tomato sauce is a crowd-pleaser."
Ingredients
1 (12 ounce) package spaghetti
1 1/2 pounds ground beef
1 medium green pepper, chopped
1 medium onion, chopped
1 (14.5 ounce) can diced tomatoes, undrained
1 (8 ounce) can tomato sauce
1 tablespoon brown sugar
1 teaspoon salt
1 teaspoon chili powder
1/2 teaspoon pepper
1/4 teaspoon garlic powder
1/8 teaspoon cayenne pepper
3/4 cup shredded Cheddar cheese
Directions
Cook spaghetti according to package directions. Meanwhile, in a large skillet, cook beef, green pepper and onion over medium heat until meat is no longer pink; drain. Stir in tomatoes, tomato sauce, brown sugar, salt, chili powder, pepper, garlic powder and cayenne. Drain spaghetti; add to the beef mixture. Transfer to a greased 13-in. x 9-in. x 2-in. baking dish. Cover and bake at 350 degrees F for 30 minutes. Uncover; sprinkle with cheese. Bake 5 minutes longer or until cheese is melted.
ALL RIGHTS RESERVED © 2021 Allrecipes.com
Printed From Allrecipes.com 3/3/2021