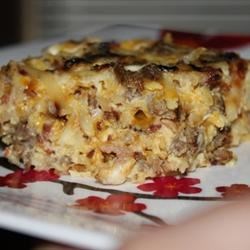 Amish Breakfast Casserole
"'We enjoyed a hearty breakfast bake during a visit to an Amish inn,' recalls Beth Notaro of Kokomo, Indiana. 'When I asked for the recipe, one of the ladies told me the ingredients right off the top of her head. I modified it to create this version my family loves. Try breakfast sausage in place of bacon.'"
Ingredients
1 pound sliced bacon, diced
1 medium sweet onion, chopped
6 eggs, lightly beaten
4 cups frozen shredded hash brown potatoes, thawed
2 cups shredded Cheddar cheese
1 1/2 cups small curd cottage cheese
1 1/4 cups shredded Swiss cheese
Directions
In a large skillet, cook bacon and onion until bacon is crisp; drain. In a bowl, combine the remaining ingredients; stir in bacon mixture. Transfer to a greased 13-in. x 9-in. x 2-in. baking dish.
Bake, uncovered, at 350 degrees F for 35-40 minutes or until set and bubbly. Let stand for 10 minutes before cutting.
ALL RIGHTS RESERVED © 2021 Allrecipes.com
Printed From Allrecipes.com 1/24/2021