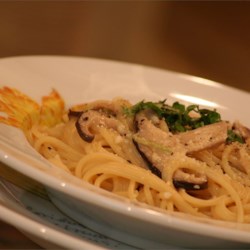 Shiitake Angel Hair Pasta
"Great with grilled beef dishes."
Ingredients
170 g angel hair pasta
170 g fresh sliced shiitake mushrooms
1 clove garlic, minced
0.5 onion, chopped
60 ml white wine
15 ml olive oil
60 ml chicken broth
120 ml heavy whipping cream
salt to taste
ground black pepper to taste
10 g grated Parmesan cheese
8 g chopped fresh parsley
Directions
Saute garlic and onion in olive oil over medium heat; add mushrooms as the aroma develops. Add chicken stock and wine, and cook until mixture is reduced to 1/2 volume. Blend in cream, and reduce to desired thickness. Season with salt and pepper to taste.
Meanwhile cook pasta in a large pot of boiling salted water until al dente.
Drain pasta, and toss with sauce until coated. Serve on small warmed plates, topped with grated Parmesan cheese and parsley.
ALL RIGHTS RESERVED © 2018 Allrecipes.com
Printed From Allrecipes.com 11/15/2018